The television camera is constantly moving you forward, transporting the viewer
The 60 minute walk takes you through the joy and beauty of each unique season. The chapter marks
on the DVD let you select the length suitable for your own cardio workout on your treadmill, and
even choose your favorite time of year to actually begin your virtual walk!
---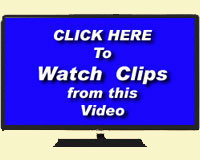 To Purchase this video as a DVD, click here.
To Purchase this video as a 720p HD Download, click here.
---

A Description of the Walk on this Video
(All photos on this page are
actual still frames
from this video.)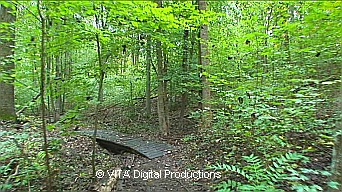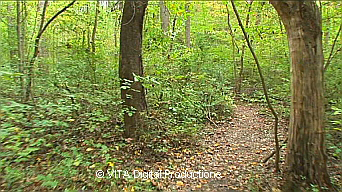 Your walk begins on a bright summer morning where you will find yourself
immersed in a sea of green foliage.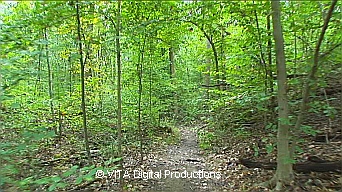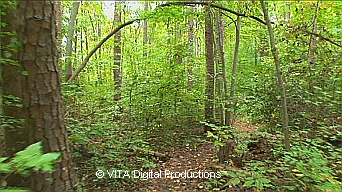 As the pathway curves gently downhill, you are walking in
a lush, leafy forest.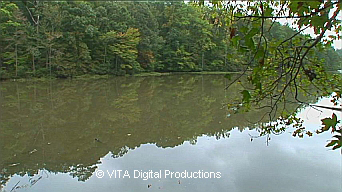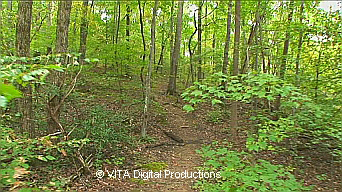 As you enjoy the songbirds heard throughout this segment of your walk,
civilization will seem a lifetime away...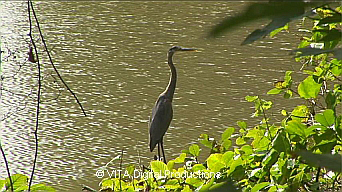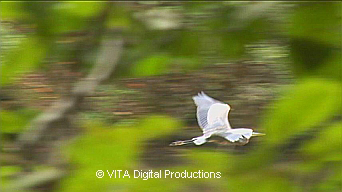 On a quiet morning walk, you are sometimes privileged to see
a great blue heron resting and in flight.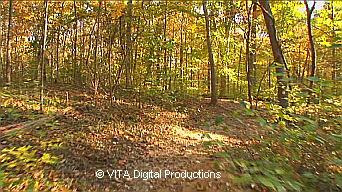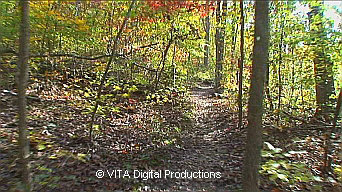 And now autumn takes her turn in the spotlight.
The deep greens of high summer become more subdued,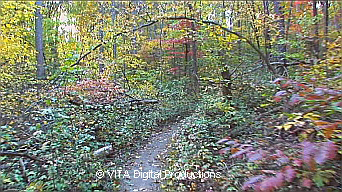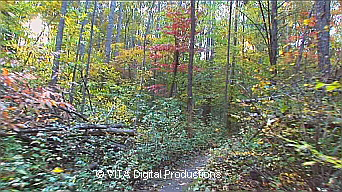 showing a different color palette,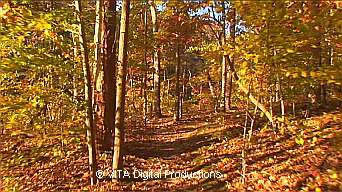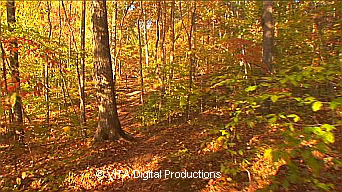 before bursting into a golden landscape.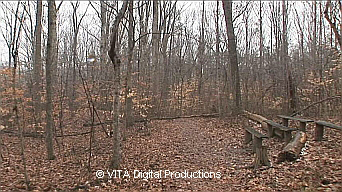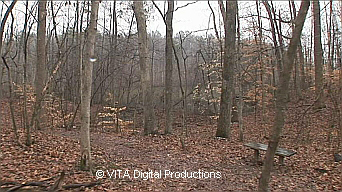 Now winter brings its quiet dignity on stage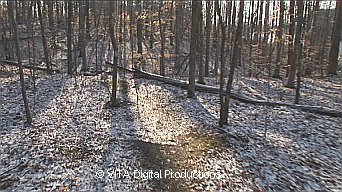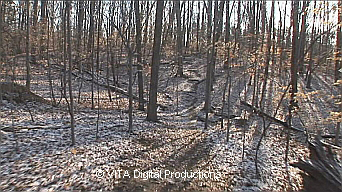 and a light dusting of snow covers the brown pathways.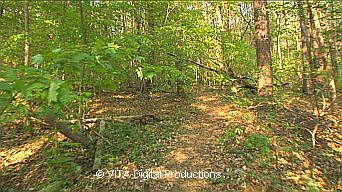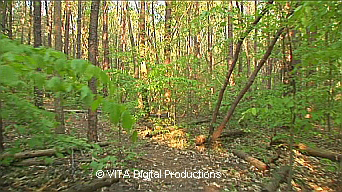 After the dormancy of winter, the forest comes alive again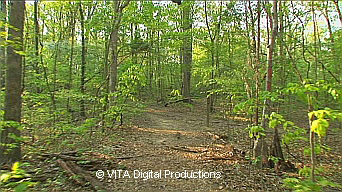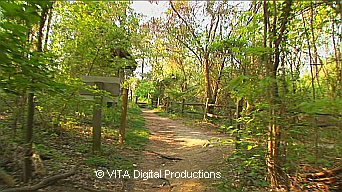 and greenways abound.
---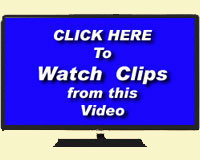 To Purchase this video as a DVD, click here.
To Purchase this video as a 720p HD Download, click here.
---
BONUS CHAPTER INCLUDED ON THE DVD: "SPRINGTIME"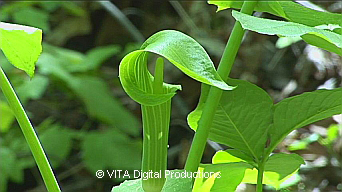 A separate 10 minute bonus chapter on springtime flowers and ferns is also included on the DVD!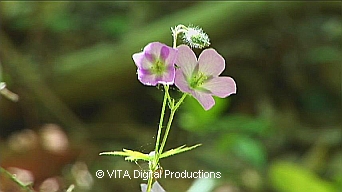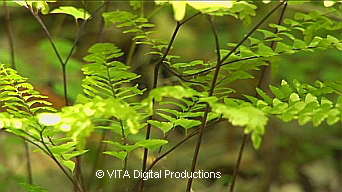 This chapter is set to beautiful music,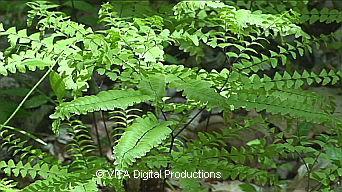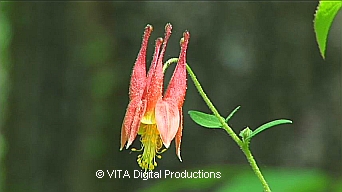 and has closeups of wildflowers and ferns.
Here's a recent email from a customer regarding our Four Seasons Walk:

"Hello,

I bought all of your walking DVDs recently and have just had a chance to spend more time with some. They are truly a treat for me. Although I've been to Venice (long ago), somehow I never learned about Burano (or Murano or Turcello, which I look forward to seeing, courtesy of you). I loved both DVDs and found the mini-doc about the other islands fascinating.

I just watched the Four Seasons one in fast forward. I'm a native Californian and, although it does happen relatively dramatically in parts of the state, I've rarely seen obvious signs of seasons changing in my daily life. It was SO interesting to watch the changes along the same path right before my eyes.

What an interesting concept you had in doing this. How moving it is allegorically as well.

Further, the mini-doc on flowers and ferns is so lovely .. offering the things one would focus on while walking past but you can't safely with a camera while continuing walking. My biggest compliment is for the very rare pleasure of experiencing editing to the phrases of the music. There should be whole semesters/years on this in film schools and specialists sitting with non-musical editors because it makes such a difference. Very often you made gentle transitions as the music went from one phrase to the next and I loved how you would slowly zoom in on a flower and hold the shot through the climax of the phrase. Well done! I'm not sure which came first, the film or music, but if it were the film, it was photographed with uncanny musical timing. However it happened, I appreciated and got great pleasure from it.

I'm looking forward to the rest - and ones coming in the future. I'm slowly savoring them since I know I'll be living with them for a long time.

Thank you for these and for making my ordering so easy that night I was doing them one by one,

Janet H."
Please Note:
This walk was filmed at approximately 3 mph - a moderately fast walk.
Each season is 15 minutes in length. The order of the seasons on the DVD is:
Summer, Autumn, Winter, and Spring.
You can choose to start the walk in Summer and the walk is 60 minutes long, or
you can choose to start the walk in Autumn and the walk is 45 minutes long, or
you can choose to start the walk in Winter and the walk is 30 minutes in length.
Spring is the last segment on the DVD so you always end in springtime.
---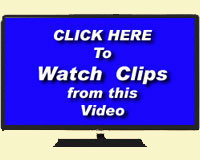 To Purchase this video as a DVD, click here.
To Purchase this video as a 720p HD Download, click here.
---
PRODUCTION NOTES:
While originally filmed in High Definition, the DVD you will receive
is in Widescreen and Standard Definition. The 60 minute virtual walk
is accompanied by the Natural Sounds (in Stereo) as they were recorded
on site in the Forest. The 10 minute Bonus Featurette on the DVD, "Springtime"
is accompanied by light Classical Music.
The DVD you will receive is a "burned" DVD which was duplicated in our studio.
It contains an interactive menu and will play on DVD players and computers.
This video is also available as a 720P HD Download.
* Sorry but the HD Download does not include the Bonus Chapter.
All of the above photos are actual still frames from the walk.
---
COPYRIGHT NOTICE:

We are VITA Digital Productions and we are selling this DVD.
We filmed all of the video footage used in this program, we edited it,
we have licensed the rights to the music used in this production,
and we own the copyright to this program and will aggressively defend it.

The program contained in this DVD is licensed for HOME USE ONLY.
If you intend to use this program in connection with a business of any kind,
you must contact us to obtain a license to do so.


---
Images, Text, and Layout Copyright 2017 © VITA Digital Productions - All Rights Reserved